Start reading today to set forth on an amazing adventure through dark forest with unsung heroes who may light your way! 👉 All books 2023: the first and the second are available NOW, while the third is 50% off for preorders until October 3rd. Each eBook preorder include pre-release (site exclusive week-ahead)! Reward yourself with a full treat or try a novella-size bite (30% content) at: NikolaStefan.com/info. Or read on… ⬇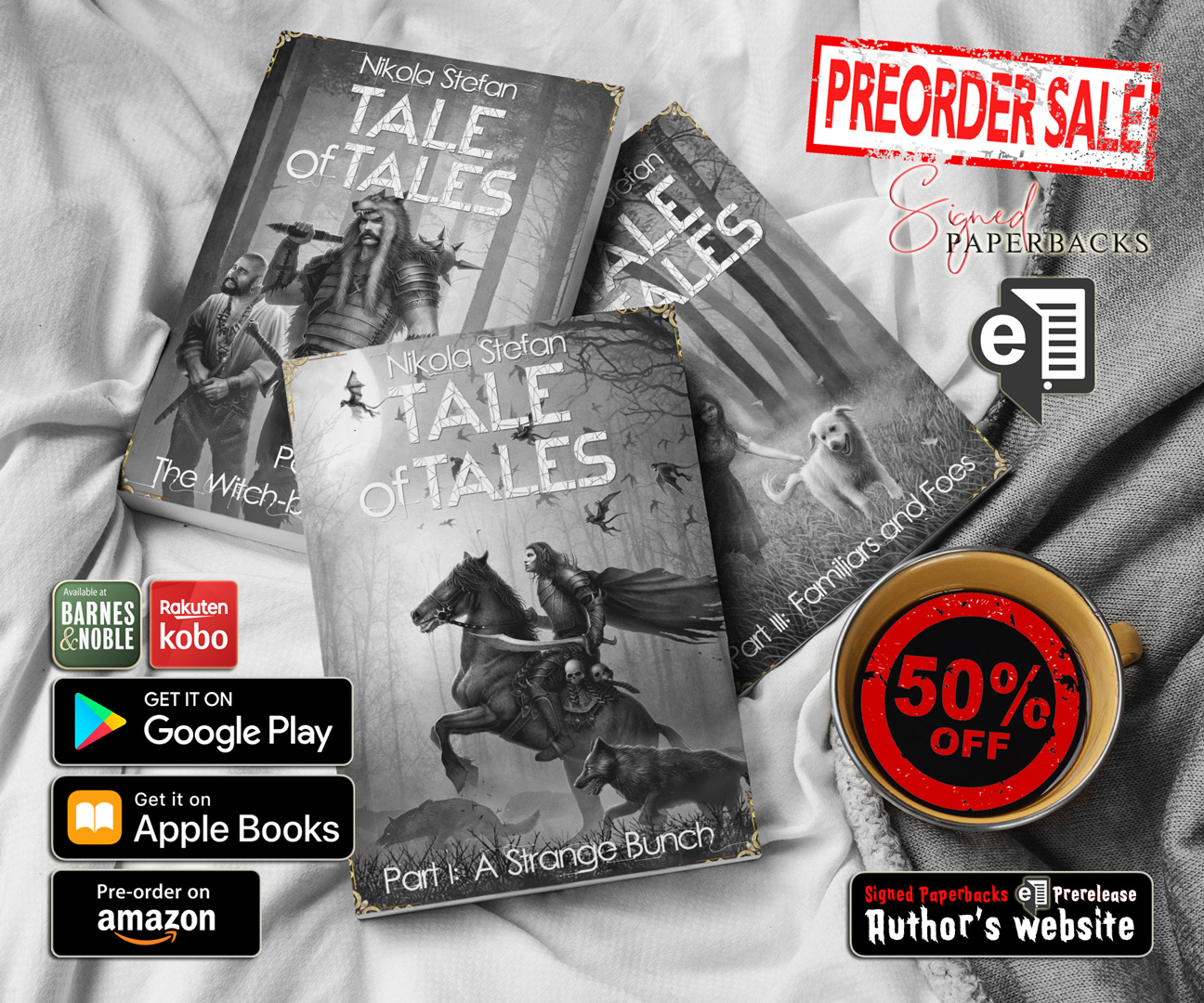 Tale of Tales: A Fantasy Novel Series Based on Myth & Legend. Paperbacks and eBooks. (⟹ Book 1 and Book 2 are published and available now, Book 3 is on presale.)

Early Reviews


(Tale of Tales – Part I: A Strange Bunch)

"I really enjoyed this story! It is written in a folklore style, reminding me of the Grimm fairy tales, including the character sketches of old (at the start of every chapter and they are amazing!)… A refreshing break from today's fantasy, an old take on a new story." ―NetGalley Review

"I just really adored this tale." ―Goodreads Early Review

"I enjoyed how Nikola Stefan incorporated folklore into the story and it made it very gripping, especially when mixed with the combat and the borderline horror elements thrown in. I now can't wait to pick up Part II…" ―BookSirens Review

"Fast paced and kept me on the edge of my seat." ―Amazon Review

"I really liked this – it was odd in an endearing way. The heroes were both heroic and flawed, strange enough to not give everything away and to have you liking members of the group, wanting to know what happens to them next. It feels both very familiar and completely different." ―Claire Buss, Fantasy/SciFi Raven Award Winner

"Wonderful book. I thoroughly enjoyed reading it." ―Amazon Review

"Creatures of the night, chivalry, a cool dog and lots of unanswered questions and drama… The kind of strange that makes you want to know more. I am anxious to read the next book." ―Hidden Gems Review

"This was one of the most enjoyable fairytales I have read in a long time. I truly enjoyed it… I cannot wait for the next book in this adventure." ―NetGalley Review

"As close to tales of old and a narrative poem as one could get, and in a great way. Highly recommend." ―Booksprout Review
Get signed books & early access to all announced eBooks by buying directly from the Author Store. Or buy the series on Amazon / choose your store (main links below ⬇).
Preferred option: Buy direct from the Author
Buy the released books or pre-order now to embark on an amazing epic adventure! 👆
NOTE: Each Paperback will ship prior to release, and each eBook (next: #3) will become available on a pre-release date only here. Hardcovers & audiobooks may be available after the Kickstarter.